"A comfortable old age is the reward of a well-spent youth. Instead of its bringing sad and melancholy prospects of decay, it would give us hopes of eternal youth in a better world. "
Maurice Chevalier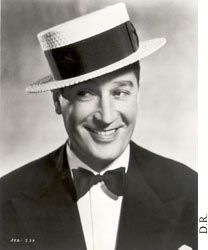 September 12, 1888 – January 1, 1972
French actor, singer, and entertainer.
His trademarks were his tux and boater hat which he always wore whenever on stage.
(You may remember
him in Can-Can(1960) with Frank Sinatra & Shirley MacLaine)