Today was my last day of spring semester. Yay!
I have now completed my freshman year of college!
It was kind of a long day. I had to be at Shawnee at 2pm for my science group discussion/final, but before that I got some sweet stuff n the mail: my bank rewards gift cards(an amazon and a tj maxx one) and the necklace and stuff from a giveaway I won (pics soon). Needless to say, my day started off right.
After I was done digging through my goodies, I set off for Shawnee. I got there on time, and I ended up not getting out of there until almost 4pm.
It was a lot of stuff to go through, lemme tell ya. Although, as with some feedback forms, a lot of the questions were basically repeats of each other.
Anyway, I got done with that and I had a ton of time to kill before my critique at 6:30pm so I set out to explore some of Portsmouth...
After I got there I thought - I should have brought my spreadsheet!
(I'm working on a coupon spreadsheet cataloging coupons and reg. prices of items etc)
I had left it at home with all my other couponing goodness. Luckily that Kroger has a Starbucks and Donato's Pizza in it so I got some pizza and Starbucks and basically killed the rest of my time reading in the little cafe area. I also picked out some flowers to put in my final art project, which is a vase.
My fingers were all blue and pink by the time I got them trimmed up and in the vase. I had NO IDEA they dyed flowers. I thought they were naturally that blue and pink.
(Way to burst my bubble Kroger)
I presented it during my critique. Everyone really liked it! They especially loved the little rosettes I made from the P&G ads (SO glad Michelle showed me how!)
I was very happy with the way it all turned out.
The theme of my project was rebirth and hope. I basically made it to represent how people die and bad things happen in life (obituaries and news of record decoupaged on the outside), but life goes on(the flowers and rosettes).
Here are some pictures of it: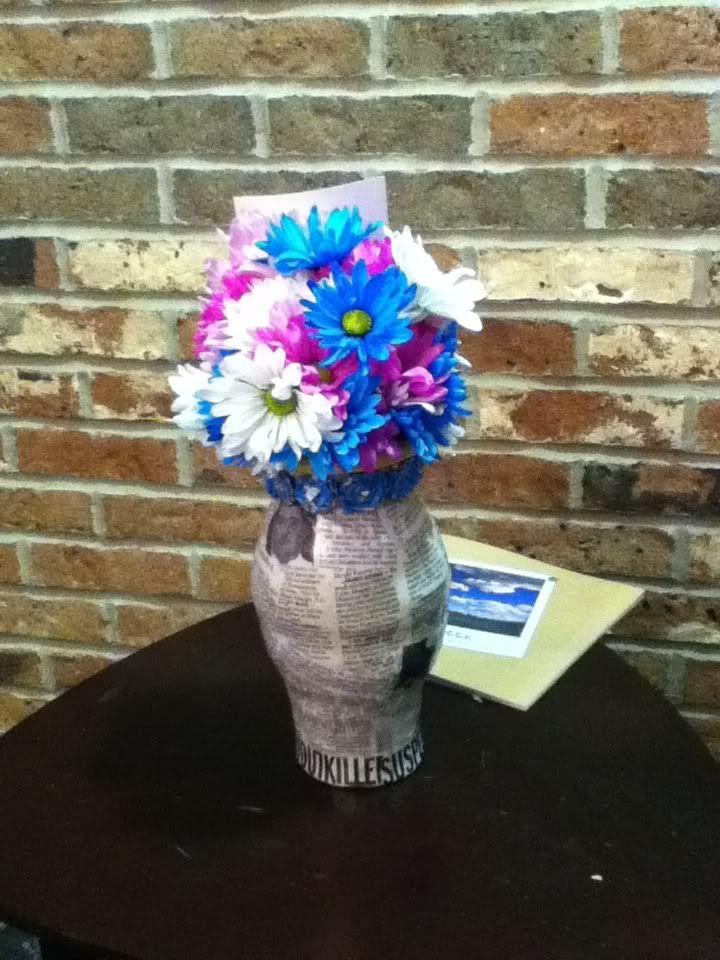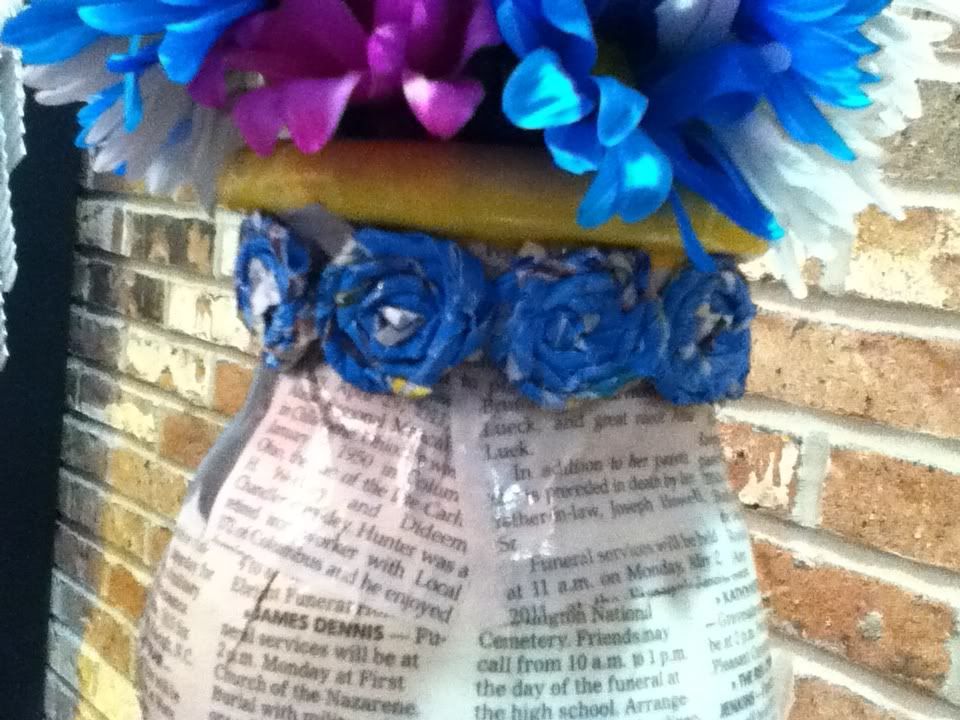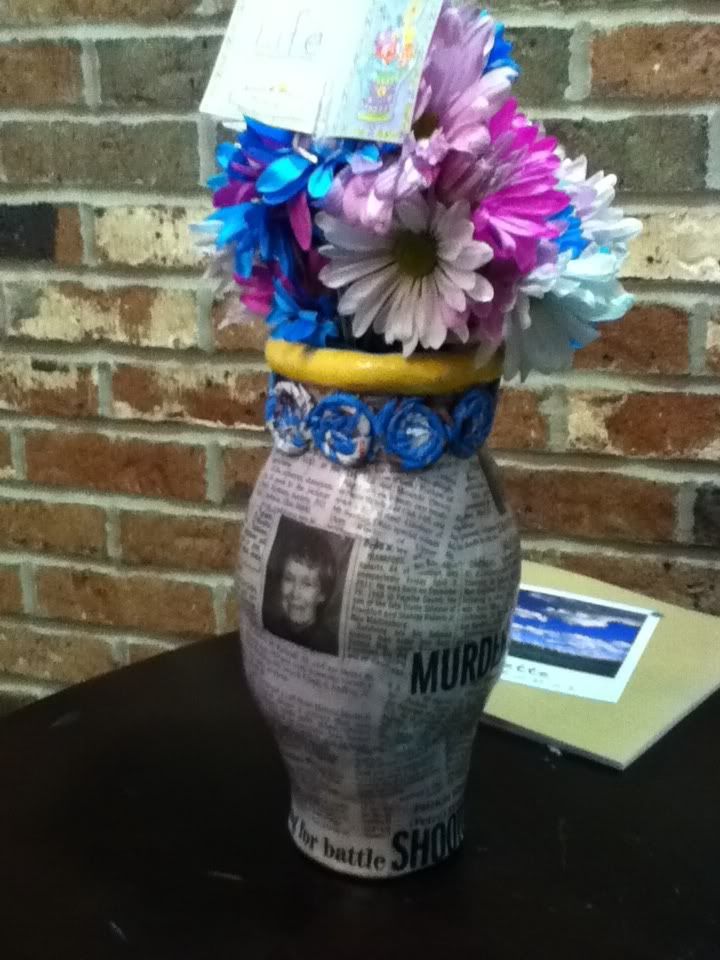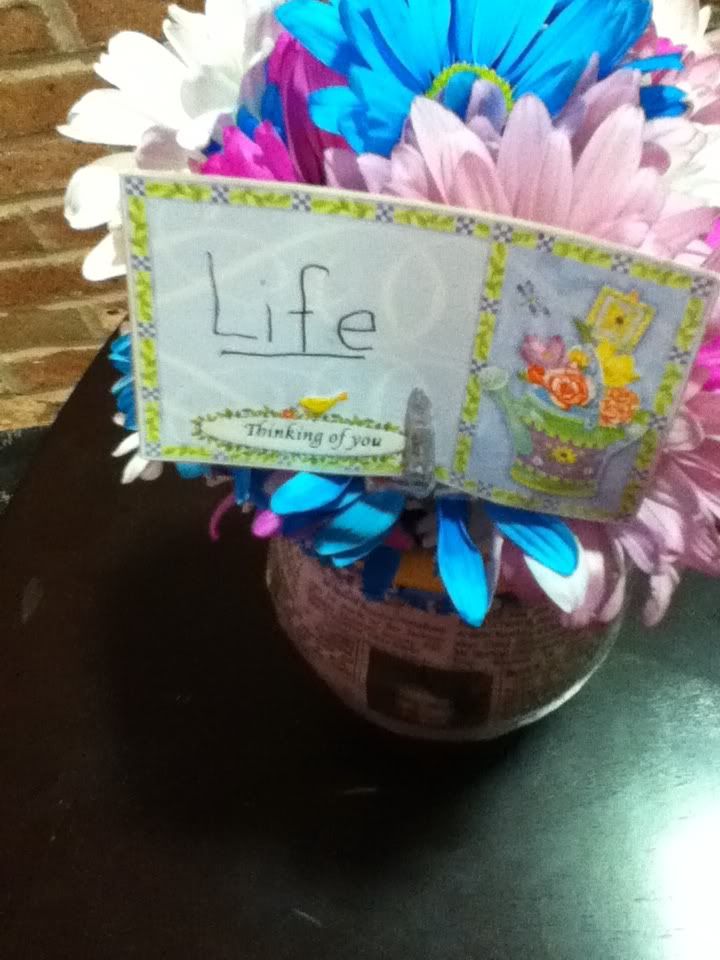 Needless to say my last day of spring semester was pretty good one!