I recently won the
TLC Creations
giveaway at
Bouffe e Bambini
. I got my package the other day, so I thought I would tell you guys what I got, and what I thought about it. (not because I want to rub my good luck into your faces. haha)
I LOVED the accessories that I received! The pattern was lovely! I liked that it was an animal print, but not too showy. Sometimes when you have a flashy animal print it limits what you can wear with it. I didn't have that problem here! The combination if the simple print and the black and white coloring makes it very versatile!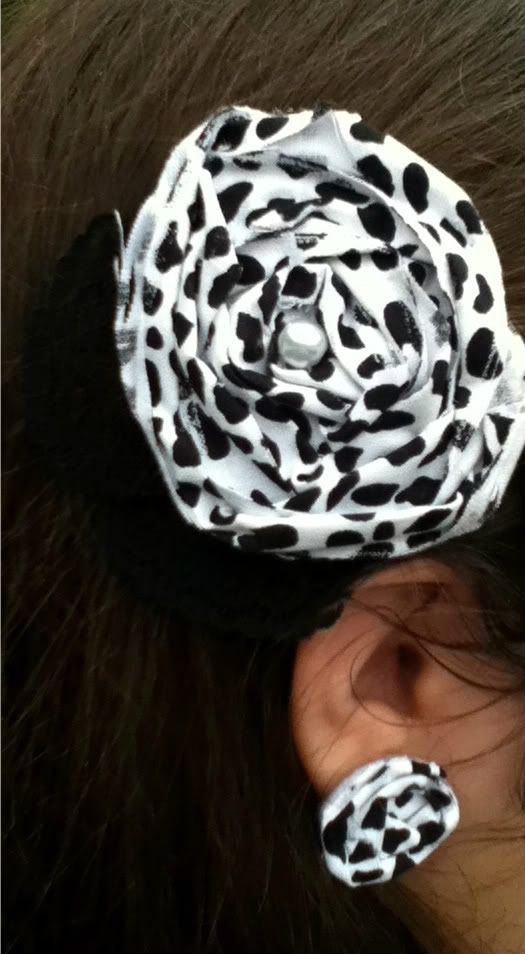 The hair clip was very well made and stayed in my hair perfectly. I also loved the touch of pearl in the center and the lace on the edge, it really give it character and class.
The earrings were lovely as well. I really like the size of the rosette's, I think it works very well for me. When I get a stud earring, I like it to be a bit on the larger side.
The belt was the same pattern as the earring and clip. I actually can't wear it because its a tad bit too short, but if I could I would! The only qualm I have with it is the stitching. Its a bit wackadoo and is very uneven. It won't lay flat and has kind of a bunch in one place. Although, I think that if you wore it just right you wouldn't be able to tell.
All in all these were great accessory pieces! I was so excited to win them!