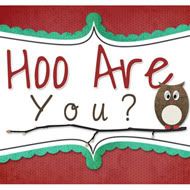 It's been a while since I've linked up with Night Owl Crafting's Hoo Are You? Tuesday so I decided to link up this week!
Normally, I always forget to link up.
Yikes!
1. Do you prefer sweet or salty foods?
I prefer salty foods. Snack foods are mostly salty, right? So yes. Salty foods. My all time favorite snack crackerish things are Whales. Yep. Whales. They're kind of like Goldfish crackers but their called Whales, and they are WAY better than Goldfish.
2. Name your 3 BEST personality traits!
3. Name your 3 worst personality traits!
I can be a bit cynical, distrusing, & defensive at times- it goes back to the lack of trust thing. If i think youre gonna attack me in some way, or going to hurt me. You're cut off ha.
(I asked my brother what he thinks my best and worst personality traits are and he said Im like a panda or something. Im all nice and cute and cuddly, just sitting there happy to be eating my bamboo, until you annoy me or make me angry)
4. Do you collect anything?
I kind of unofficially collect a lot of things. Trash, books, dust... but officially I collect Breyer Model Horses.
Ive been really slacking in the Breyer department though, mainly because they are a bit pricey and as a college student its not real big on my priority list. Ya know?
5. What is your favorite season of the year?
Spring! The temperature is just right that time of year. Sadly good spring weather only lasts for 2 days here, if that before it rains or something haha.
But, the beginning of fall is a close second. Where its cool but not too cool.